Description
[contact-form-7 404 "Not Found"]
step1You must first file for GSTR-1 (for sales made) by the 10th of each month.
step2The buyer views (and rectifies, if any) the sales made by you in GSTR-2A.
step3The buyer then approves the sale made by you and files for GSTR-2 by the 15th of each month.
step4If any modifications are made, you (the seller) can approve or reject the same in GSTR-1A.
step5When both the seller and buyer approve of the forms, GSTR-3 is generated with the payment of taxes due by the 20th of each month.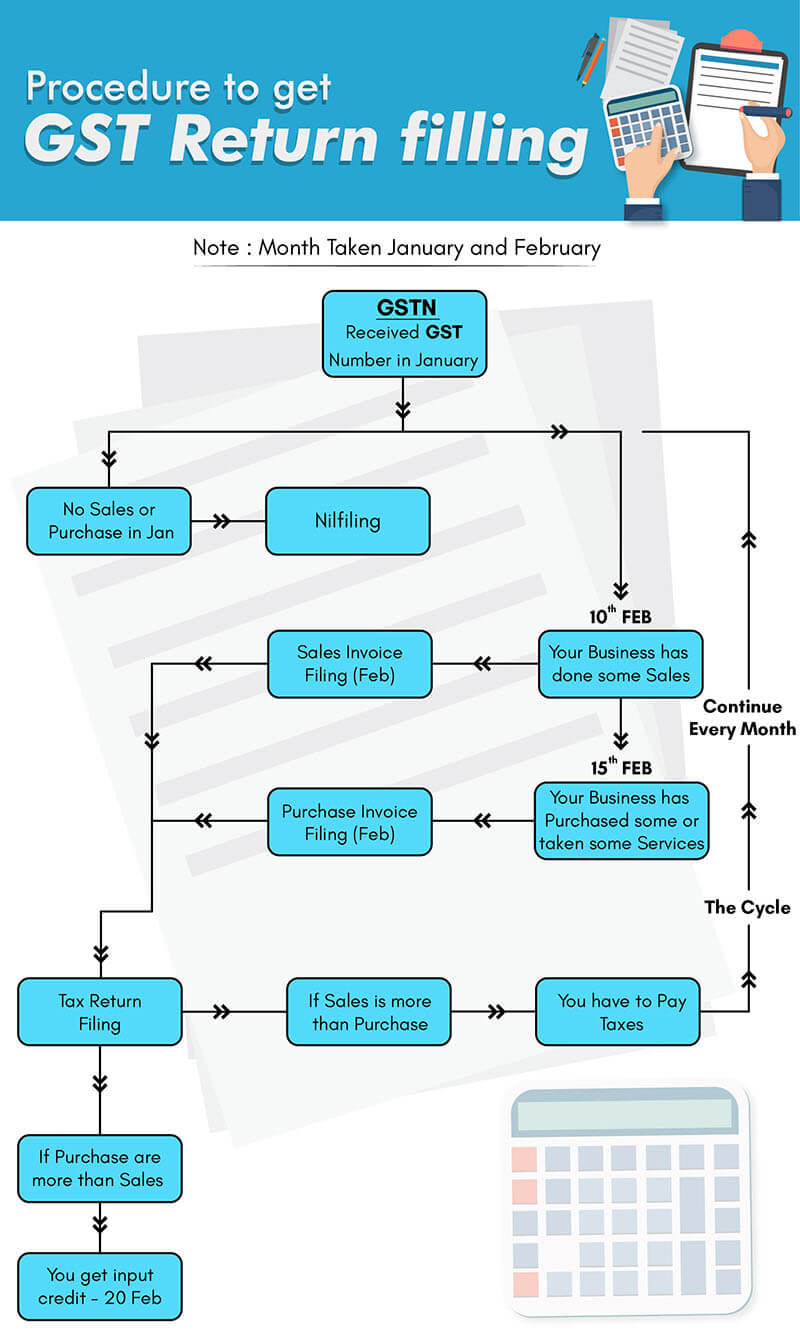 WHAT IS GST RETURN
A GST file return is a document which has details of income which a taxpayer needs to file with the tax administrative authorities. This is used by tax authorities to calculate tax liability.
ELIGIBILITY FOR GST RETURN FILING
In the GST norms, any regular business has to file three monthly returns and one annual return.
GST should also be filed by entities that make no sales or purchases during a given period (year) in the form of nil-returns (meaning no returns).
The best part in this system one has to manually enter details of one monthly return – GSTR-1. The other two returns – GSTR 2 & 3 will get auto-populated by deriving information from GSTR-1 filed by you and your vendors. Compounding taxpayers have to file returns quarterly which is for every three months and regular taxpayers such as, foreign non-residents, casual taxpayers and Input Service Providers (ISD) have to file returns monthly.
CURRENT ACCOUNT OPENING
A current account is a type of deposit account that helps the professionals and businessmen to run their business. Businessmen can avail various benefits by Online Current Account such as:
Unlimited transactions
Customized features
Online banking services
Online current account reduces the hassle and provides the benefit to complete the banking process anytime and anywhere.
ARE YOU READY TO GROW YOUR BUSINESS?